Was going to make an actual useful post but this is more pressing.
All regarding KHR! chapter 225, and everything beyond this point is capslocked blubbering so fair warning. 8D And
SPOILERIFIC~
but that's painfully obvious.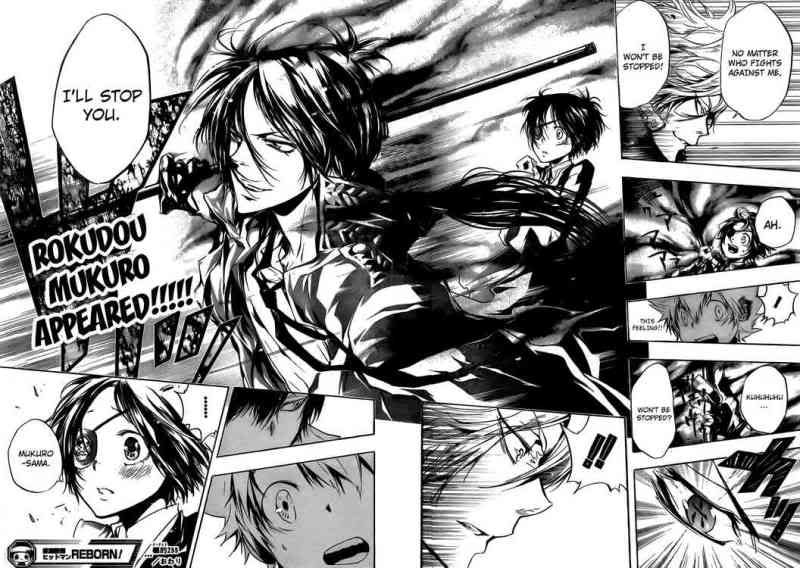 MUKURO!!! YOU LIIIIIIIIVE!!! \;____________________;/
OH MY GOD. OH GOD I AM SO HAPPY TO SEE HIM. I CRIED, WHICH IS SO COMPLETELY PATHETIC BUT I CARE NOT AT THIS POINT. HE JUST MADE A COMPLETELY SHITTY DAY A BAZILLION TIMES BETTER ASDFGHJKL;
MUKURO
GAIZ!!!!!! T_____T
GUUUUUUUH LOOOOOOK AT HIIIIIIIIM
MOST EPIC FUCKING RETURN EVER
IT WAS SO WORTH THE WAIT ;3;
NEXT CHAPTER BETTER DO A MAJOR MUKURO EXPLAINING. I DESIRE TO KNOW WHAT THE HELL HAPPENED TO HIM.
AND LOOK AT BYAKURAN'S
FACE
. I READ THAT AS SOMETHING AKIN TO "HOLY SHIT HOW'D YOU GET OUT OF YOUR CAGE-- I MEAN"
DO WANT MUKURO COMPLETELY
OWNING
BYAKURAN'S ASS. IN ANY AND EVERY SENSE OF THE PHRASE.
♥
WHY DO I GET THE STRONG FEELING THAT MUKURO LET BYAKURAN WIN AND IT'S GOING TO BE A BIG EPIC LOL MINDFUCK WAS ON
YOU
THING
NEXT FRIDAY CAN NOT COME QUICKLY ENOUGH 8'DDD
THE ONLY THING THAT COULD POSSIBLY MAKE THIS SITUATION BETTER IS IF GAMMA POPPED UP BEFORE BYAKURAN AND WAS LIKE "BITCH THAT'S
MY
PRINCESS *Z-SNAP*" AND THEN PICKED UNI UP AND CARRIED HER OFF. YES PLZ.
MY NIGHT HAS OFFICIALLY BEEN MADE 8'DDDDDDDDDDDDDDDD
Current Mood:

OVER.FUCKING.JOYED.

Current Music:

ALIVE - JEKYLL&HYDE ialwaysam